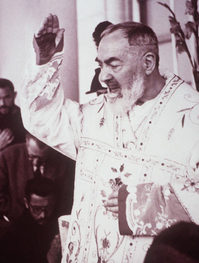 Padre Pio's witness, which is evident from his life and even from his physical condition, suggests to us that this message coincides with the essential meaning of the Jubilee now close at hand: Jesus is the one Savior of the world. In him God's mercy was made flesh in the fullness of time, to bring salvation to humanity mortally wounded by sin. "By his wounds you have been healed" (1 Peter 2:24), the blessed father repeated to all in the words of the Apostle Peter, he whose body was marked with those wounds.
In 60 years of religious life, practically all spent at San Giovanni Rotondo, he was totally dedicated to prayer and to the ministry of reconciliation and spiritual direction. This was well emphasized by the Servant of God Pope Paul VI: "Look what fame he had…. But why?… Because he said Mass humbly, heard confessions from dawn to dusk and was … the one who bore the wounds of our Lord. He was a man of prayer and suffering" (20 February 1971).
Totally absorbed in God, always bearing the marks of Jesus' Passion in his body, he was bread broken for men and women starving for God the Father's forgiveness. His stigmata, like those of Francis of Assisi, were the work and sign of divine mercy, which redeemed the world by the Cross of Jesus Christ. Those open, bleeding wounds spoke of God's love for everyone, especially for those sick in body and spirit.
And what can be said of his life, an endless spiritual combat, sustained by the weapons of prayer, centred on the sacred daily acts of Confession and Mass? Holy Mass was the heart of his whole day, the almost anxious concern of all his hours, his moment of closest communion with Jesus, Priest and Victim. He felt called to share in Christ's agony, an agony which continues until the end of the world.
Pope John Paul II
3 May 1999 Padre Pio's Beatification