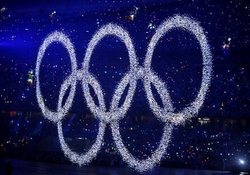 After the Angelus on August 3, 2008, the Holy Father Pope Benedict XVI said:
Dear Friends,
Next Friday, 8 August, the 29th Olympic Games will begin in Beijing. I am pleased to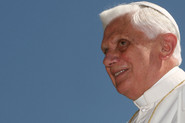 address to the host Country, to the organizers and to the participants, and first of all to the athletes, my cordial greeting and the hope that each one may give of his or her best in the genuine Olympic spirit. I am following with deep interest this great sports event – the most important and anticipated in the world – and I warmly hope that it will offer the international community an effective example of coexistence among people of the most different provenances, with respect for their common dignity. May sports once again be a pledge of brotherhood and peace among peoples!
But not all is what it seems to be. One has to wonder how sincere the Chinese government is when there is still evidence of human rights violations and an abuse of power when dealing with religion. Not only are the Tibetans troubled by Chinese control but also Catholics and other Christian groups. The Games' slogan "One World, One Dream" is laughable in front of reality. Whose dream is the Chinese government proposing to realize?
Then there is the matter of freedom of information, that is, lack of adequate and free exchange of ideas. It is a fact many Catholic websites are unable to be accessed in China today. Some of them are the websites of Vatican Radio, the diocese of Hong Kong, the Korean Church and AsiaNews.
And the puzzling thing is seeing a Catholic bishop carrying an Olympic torch on July 31st.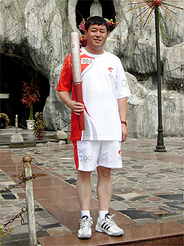 The UCA News reported that Coadjutor Bishop Peter Fang Jianping of Tangshan (Vatican approved) has become the first Catholic bishop to carry the Olympic torch on its way to Beijing. This gesture follows after a Catholic priest did the same in June. While the political issues are always complex the fact remains, Catholics are not free to worship or organize in China and some bishops and priests remain under arrest. It seems to me that Bishop Peter was hoodwinked.
Prayer for Olympics
Everlasting God, giver of joy and source of abundant life,
we pray for all who are involved in the Beijing Olympic Games,
and especially those who represent the United Startes of America:
for their safe-keeping and well-being;
and as we celebrate the skill and resolve of those who compete
we pray that, throughout the Games, there would be
a striving for excellence,
a spirit of humility and fair play,
and a respect for others,
and that all who wait on you may find their strength renewed
in Jesus Christ our Lord. Amen.
Prayer courtesy of Rev'd Peter Moger, The Church of England but edited